The 'Howdy Modi' event commenced with a 90-minute cultural program called 'Woven: The Indian-American Story' which has been organized to commemorate the contributions of Indian-Americans have made in the United States.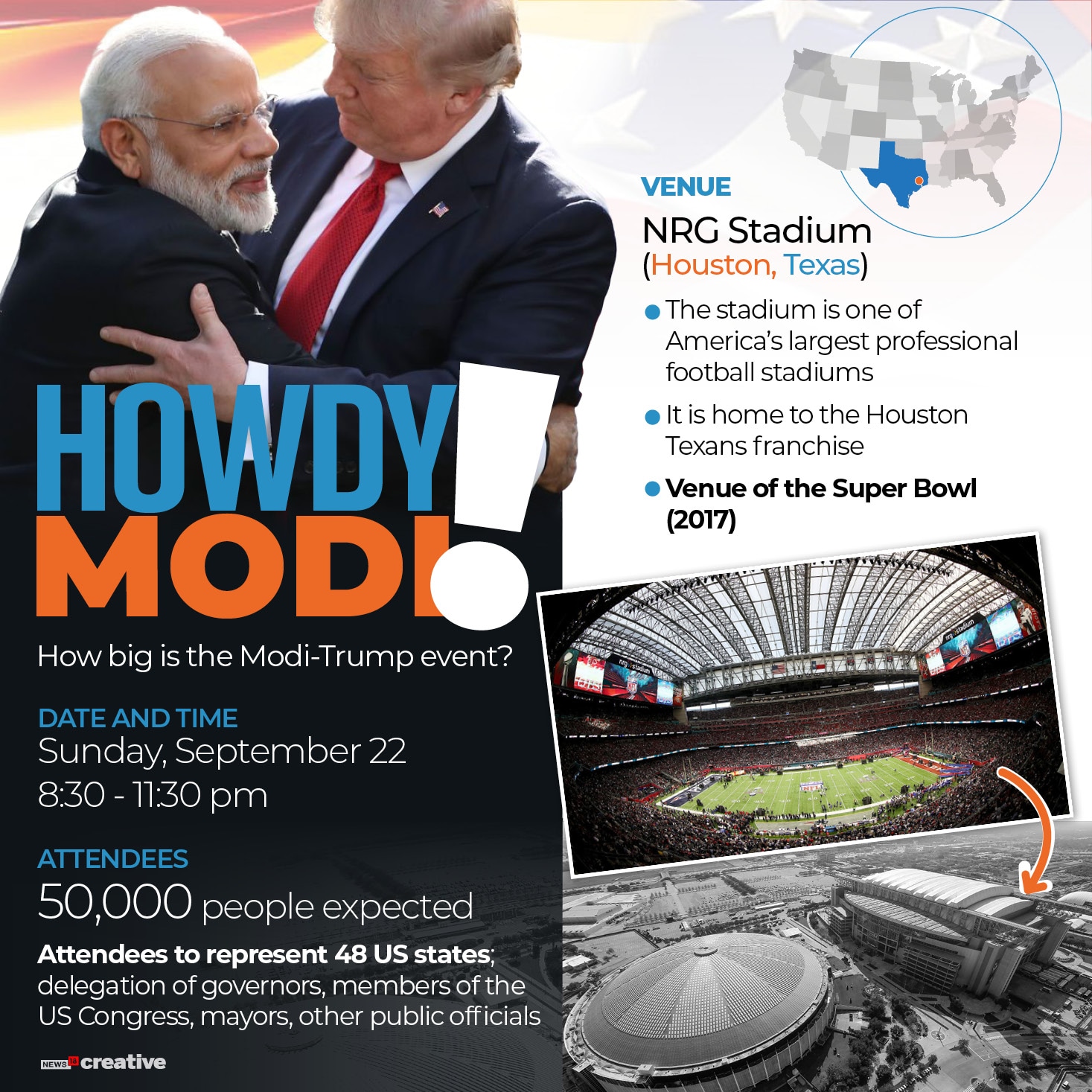 Highlights
The Howdy, Modi event has been organized by Texas India Forum(TIF)
The event was three hours long and begun at 8:30 AM as per the Indian Standard Time(IST).
The White House has said that President Trump will join PM Modi at the Houston rally as a "special gesture" to underscore the bond between the two countries.
PM Modi will also take part in a big climate summit in New York. The Prime Minister will showcase what India has done to address climate change issues and spell out our expectations and aspirations from the international community.
the mega event at the NRG Stadium in Houston,United States where Prime Minister Narendra Modi would be addressing the Indian diaspora along with US President Donald Trump are in full swing.
The event has been organized by TIF(Texas India Forum). There will be a 3-hour show in which artistes will present Indian classical and folk songs and dances. More than 1000 Gujaratis residing in the Houston are preparing for dandiya performance to welcome the Prime Minister.
The cultural show showcased 400 performers and community members from Texas and across the US. A total of 27 groups are preparing for the event.
The community reception unveiled the plaque for groundbreaking ceremony of eternal Gandhi museum, the plague inaugurating Gujarati Samaj of Houston Event Center and Shri Siddhi Vinayak Temple,Houston.
The motive behind the grand celebration is to deepen US-India ties by the confirmations of over 30 lakh Indian-Americans in the US and will layout the vision of India's development.
The event is being broadcasted live in Hindi,English and Spanish languages followed by the speeches of PM Modi and President Trump. There would be a 'Shared Dreams,Bright Future session celebrating the strong bond that both the countries share.
TIF Spokesperson Gitesh Desai said that more than 100 buses are being provided to ferry the participants.
Kashmiri Pandits gave a memorandum to the Prime Minister in which they have requested to establish task force under MHA to bring community leaders, experts and key stakeholders together in order to repatriate Kashmiri Pandits in the region.
PM Vijay Goradia from Vinmar told that goals and expectations for India's energy security and reduction of carbon emissions and overall reduction in pollution are not mutually exclusive.
A member of the Sikh delegation submitted a memorandum to the Prime Minister to declare Sikhism as a separate religion. He quoted that Modi is their tiger, and is Iron man for them.
Modi was thanked by Kashmiri Pandits, Dawoodi Bahora community for pathbreaking decision including the establishment of Kartrpur corridor and abrogation of article 370.
After the event PM will be head to attend the 74th session of UNGA(United Nations General Assembly).