Veteran politician and Congress MP Shashi Tharoor appealed to Prime Minister Modi on Monday and said he was deeply disturbed by the FIR lodged against the celebs who had penned a letter to PM in July. Mr. Tharoor urged the PM to "affirm the constitutional principle of Article 19 and guarantee freedom of speech and expression.
He penned a two-page letter and reminded him of the speech made before the US Congress in 2016. In that speech, he called Constitution a holy book and said freedom of faith, speech, and equality of all citizens, regardless of background, religion, sex, region are enshrined as fundamental rights.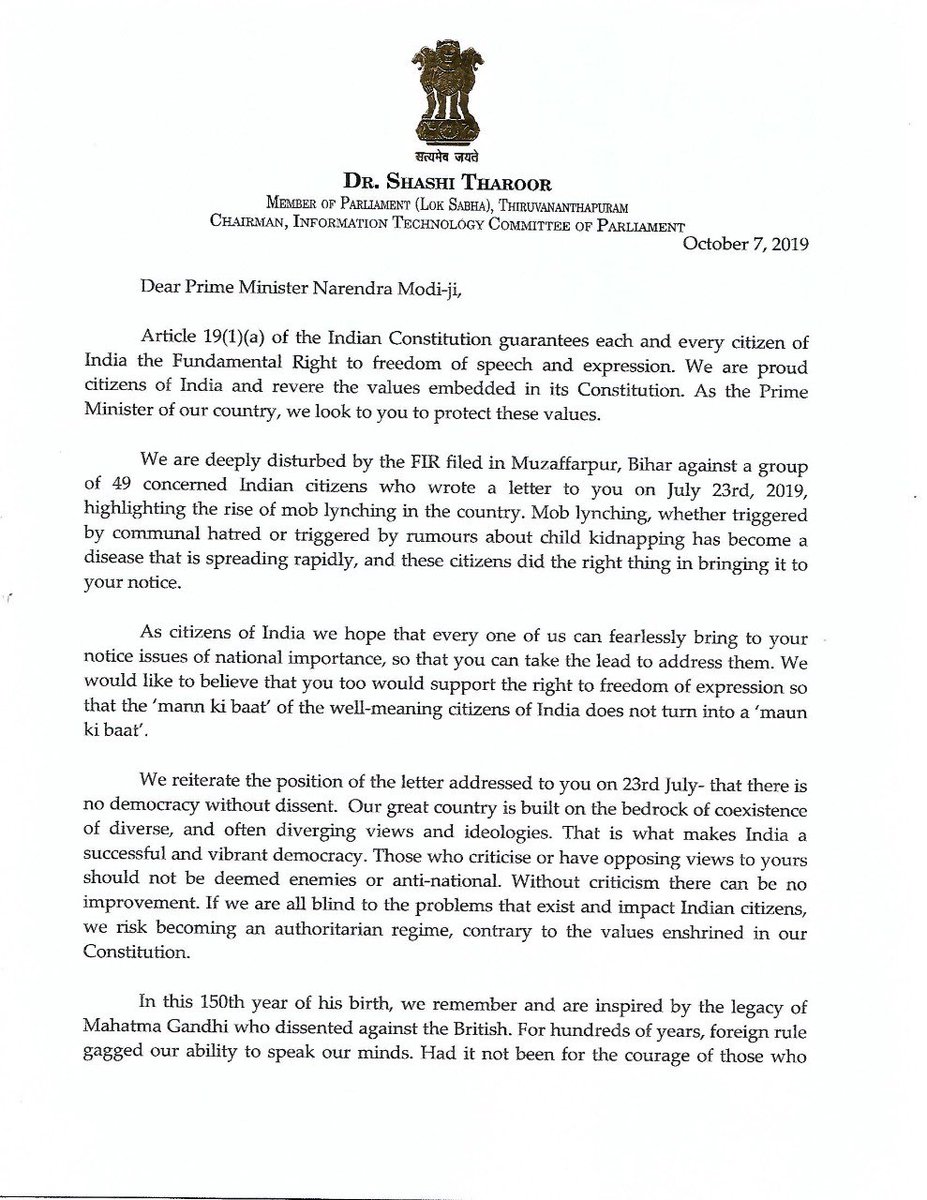 "As Indian citizens we that each one of us can fearlessly bring to your notice the issues of national importance so that you can lead to address them. We would like to have the belief that you would also support the right to freedom of expression, so Mann ki beat doesn't transpire into Mann ki Baat," Mr. Tharoor wrote.
Earlier this year 49 celebrities from Indian film fraternity had written a letter to Prime Minister Narendra Modi to express concern over growing incidents of mob lynching and weaponization of "Jai Shri Ram" slogan in Bengal during Lok Sabha elections this year.
The letter laid emphasis on the fact that there was no "democracy without dissent", a point which Mr. Tharoor mentioned in the letter.
"Our great country is built on the foundation of co-existence of diverse and often diverging views and ideologies. This is what makes our country a successful and vibrant democracy. The people who criticize you or in oppose your views shouldn't be termed as your enemies and anti-national."
The lodging of FIR against the eminent personalities had also been criticized by Rahul Gandhi, who said," We are moving into an authoritarian state." He further stated that the people that say against Prime Minister or who raises anything against the government is put behind the bars."
According to police, the FIR has been filed under several sections of IPC, including one relating to sedition, a charge that left Kerela filmmaker Adoor Gopalakrishna, one of the signatories of the letter in total disbelief.
The veteran leader asked the PM, "Since when has written a letter of concern to the leader of the country the trigger for an FIR? Is this the 'Naya Bharat' you wish to create where citizens shall not be heard and concern not addressed ?"
"In 2018 the Honorable Supreme Court upheld the right of citizens to dissent, stating that dissent is the safety valve of democracy. If dissent is not allowed, then pressure cooker my burst, "the letter concluded.
Now, everyone is eagerly waiting for the response of Prime Minister to the letter sent by Mr. Tharoor.