Highlights
The film 'Good Newwz' has been released in the theatres recently. The film marks the debut of Raj Mehta as a director.
It stars Akshay Kumar, Diljit Dosanjh, Kiara Advani and Kareena Kapoor Khan in the lead roles.
Good Newwz Cast
Akshay Kumar
Kareena Kapoor Khan
Diljit Dosanjh
Kiara Advani
Adil Hussain
Review
'Good Newwz' movie couples Deepti and Varun Batra are a posh couple living in South Mumbai. Both of them are devoted to their respective jobs. But Deepti also has her heart in having a baby. Thus, after a few years of trying to conceive, she and Varun consult a doctor and decide to undergo IVF(In-vitro fertilization).
But after a couple of days, they realize there is a sperm-mixup. This happens because a couple with the same surname as of Deepti and Varun consult the doctor for IVF.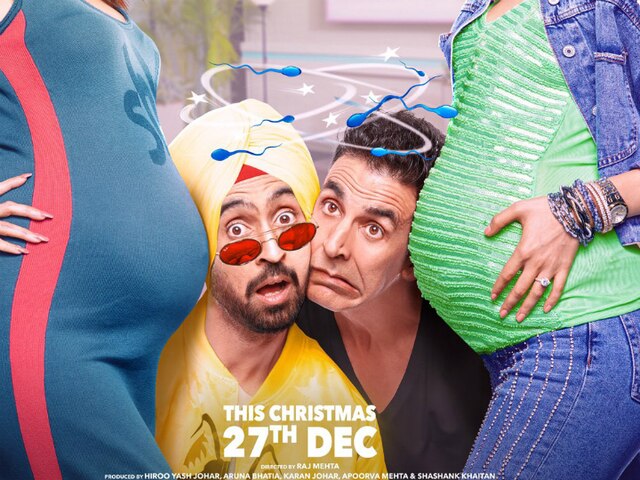 The other couple besides the ones living in South Mumbai is from Chandigarh, Honey and Monica Batra.
As both of the female leads get pregnant and come to know about the situation, the rest of the film showcases how they deal with the situation.
Talking about the performances in the Good Newwz, Kareena Kapoor Khan does a commendable job, her emotional scenes in the film are shot beautifully. Akshay Kumar's comic timing is perfect. Kiara Advani does a fantastic job by portraying the role of Monica Batra and Diljit Dosanjh is a riot in the film. His comic timing is praiseworthy and worth applauding.
Talking about the music of the film, songs 'Chandigarh Mai' and Sauda Khara Khara' have turned out to be chartbusters. The story of the film is something that will make the audience go to the theatres to watch the film.
Overall the film is worth watching. It is family-entertainer and light and breezy film.